(Attention! To this law firm) OhKims Law, "The harmony between digital and human is their key competitiveness"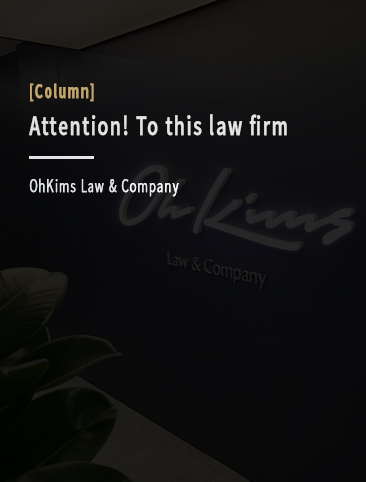 · Specialized in litigation and advisory in the fourth industrial field such as fin-tech and blockchain

· Established a non-face-to-face class action system in preparation for COVID-19
[News Tomato, Hae-hoon Jung] <News Tomato> is publishing <Attention! To this law firm series> to contribute to healthy competition in the polarized legal market and provide guidelines for the public in choosing the right legal services since October 16th last year. The report is to be released every alternate Friday. (Editor's note)
OhKims Law is one of the few law firms that established an independent patent office, co-working together under one roof. Accordingly, the law firm consists of 7 partner attorneys, 12 associate attorneys, and 9 law firm managers, and the patent corporation has 3 partner patent attorneys, 1 associate patent attorney, and 3 law firm managers.
First of all, OhKims Law value democratic working culture. It is operated based on a democratic decision-making process in which each partner attorney present various ideas for management, discusses them, and allows them to exercise equal voting rights. Through these free discussion processes, they were able to discover service items that could lead the 4th industrial field, such as △Pharmaceuticals/Bio, △Group Litigation △ICT △Inheritance/Asset Management Consulting △Fintech/Blockchain.
While actively giving legal advice for businesses in the 4th industrial revolution, they continue to seek innovation and transform their internal business processes. Excluding a few criminal cases, a 100% digitalization process was implemented in their business procedures and is actively utilizing software that allows multiple experts to collaborate in real-time. It has also established its own class-action website (clsaction.com) to establish a system that can carry out a non-face-to-face class action, such as recruiting and proceeding with hundreds of plaintiffs online without the help of external litigation supporting companies.
Like this, OhKims Law has been successfully carrying out a number of non-face-to-face class lawsuits even before the outbreak of Covid19. The firm is already playing a leading role in the non-face-to-face era by completely establishing a system that enables non-face-to-face consultation, signing of mandate contracts, and sharing the progress of lawsuits. In fact, regardless of Covid19, their number of clients and revenue have increased. Above all, OhKims Law operates a specialized service called 'OhKims Startup Center' for startup companies in the 4th industrial revolution.
This service attracts start-up companies in the 4th industrial sectors such as ICT, Bio, Blockchain, and Robo-advisors, and provides professional advisory services and IR services such as legal, patent, tax, labor, etc., before receiving their Series A investment. From the standpoint of a startup company, the biggest advantage is being able to receive various advisory services without the limitation to space and time constraints by being close to experts such as lawyers, patent attorneys, and industry experts all in one sitting.
There are a total of 7 companies that have gone through the 'OhKims Startup Center' so far. Among them, 2 companies from the healthcare sector successfully attracted external investments, and two weeks ago, a startup company in the blockchain trading system sector successfully entered the markets in Singapore. The firm plans to select and bring start-up companies in the regulatory industry including the 4th industry, into the 'OhKims Startup Center' to support their process to successfully grow into a Unicorn.
OhKims Law, specializes in litigation and advice arising in high-tech industries related to the 4th industry such as healthcare and fin-tech, but at the same time, it possesses considerable competitiveness in traditional criminal, civil, and domestic cases. Law firms that are run by young lawyers are often focused on advising start-up companies or government service projects, and there are many cases where they lack experience or competitiveness in the litigation process.
However, OhKims Law brag their confidence in the litigation process, with Mr. Chang-ho Choi, who served for 25 years at the prosecution, including a position as the head of the Ministry of Justice's State Service Division at the Seoul West District Prosecutor's Office, Chae-seung Lee, who carried out a high-leveled litigation case at Barun law firm, Byeong-seok Kim from LKB & Partners, a law firm well known for the case of Kyung-sim Chung, a professor at Dongyang University, and In-hyuk Song, the 21st lawyer specializing in housekeeping and inheritance of the Korean Bar Association, lined up together leading a balanced litigation process.
Specifically, for Mr. Song, a lawyer in the field of inheritance, is cited as a major example of an out-of-trial consultation on behalf of the distribution of rights caused by the inheritance of profitable real estate and the dispute over the payment of rights.
In many cases, a certain portion of profitable real estate such as shopping malls is used by other members of the family for its purpose, and this is based on the heir's implied consent or personal agreement with the heir. If inheritance develops in such a situation, it is difficult to guarantee succession of consent or agreement in relation to other heirs who do not use the property.
In such cases, In-hyuk Song opened all legal issues surrounding the business from the past to the present and the future and held a transparent meeting between the clients as it is impossible to settle the problem with simple affection between the siblings. As a result, the case was reasonably resolved.
In the field of class action, Tae-seop Eom sits as the main focus and carrying out a number of socially remarkable cases. He represented for a total of 2,000 plaintiffs, including victims and shareholders of Kolon Invossa, victims of Allergan breast implants, victims of a false disclosure of Meditox, victims of Ronaldo's No-show, students of SkyEdu regarding the refunding of their tuition fees, and investors affected by Optimus Funding. While class-action suits usually take three to five years or more, the SkyEdu case was closed early by non-litigation advice, and the Ronaldo No-show case finally won the case late last year.
In addition, managing partner Yong-beom Kim, a dentist who is an expert in the medical, pharmaceutical, and bio, and Seong-hun Oh, who advises on ICT, fintech, leisure, and labor, are also major members of OhKims Law.
OhKims Law, plans to cultivate the corporate finance field and the criminal field as a new growth engine. In the field of inheritance and asset management consulting, they place emphasis is on tax-saving strategies and the prevention of inheritance disputes. As asset management and succession are as important as proliferation, and inheritance is an area that is becoming increasingly important in terms of new asset proliferation. In addition, they plan to hire at least 3~5 to junior lawyers each year to provide them with opportunities to actively act as lawyers in society.
Managing partner Seong-heon Oh said, "In the process of carrying out cases in various fields, we provide high-level legal services that can be measured as 'standards' in the field through the establishment of databases and innovation in productivity through the accumulation of experience and our know-how." He added, "In the long term, the goal is to grow into a law firm that provides the same level of legal services anywhere in the country by establishing OhKims Law Centers throughout different regions,"
Managing partner Yong-beom Kim said, "OhKims Law, will reach out to the just citizens who want to defend their rights and interests with their own strength and will, and will be a light for organizations that seek true experts." He added, "In the future, I want our firm to act as a good tool to help 'David beat Goliath' in litigations. Also, for the field of advisory, I hope that the image as 'a partnering company pursuing innovation in the midst of cutting-edge industries' will be imprinted in the minds of our future clients."
Reporter Hae-hoon Jung, ewigjung@etomato.com