[Interview] 'An Almighty Mediator', Sung Heon Oh, a Managing Partner at OhKims Law, His Goal, to be the First to Find Solutions Solely by Skills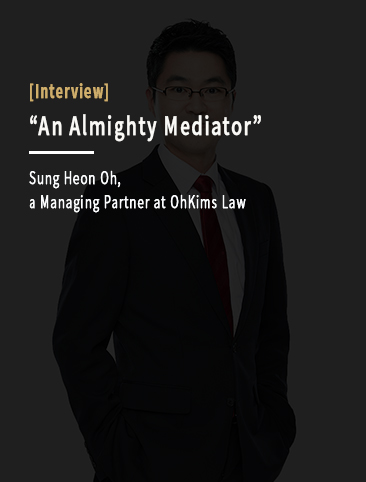 No one lives a perfect life. We all fall from time to time and face difficult challenges in life. Among these challenges, legal issues always put us in corners and are difficult to handle alone. In such times, there are the experts who interpret the complex legal system to provide solutions for them. They're the lawyers.
It is never easy bearing someone else's burden in life. And if what we're dealing with is someone else's lifetime issue, the pressure is aggravated. If the power to sustain one's life is called a sense of responsibility, then sustaining a third person's life is close to a sense of "duty". Therefore, it must be carefully handled.
So, what is life like for a lawyer who represent legal matters for others? It is unlikely to find traces of hesitation on the face of a lawyer who is in the middle of a dispute. Rather, they are more cold and passionate when it comes to problem-solving.
Managing partner Mr. Oh, is also one of these passionate lawyers. Oh, who has been leading OhKims, located in Dosan-daero, Gangnam for the 5th year is the perfect example of 'an iron hand in a velvet glove.' His charismatic toughness that co-exists in his smile, is enough to prove his innate as a passionate fighter.
After careful consideration about what it is that he wanted to pursue in life, he graduated from the Law School of SNU and completed his Ph.D. As a born-to-be mediator since high school decided that being a lawyer would be the best-case scenario.
Why did he become a lawyer? - A born to be a problem solver. Mediator, his aptitude.
Lawyer Oh, is a founding lawyer of OhKims Law. He has begun his career as a lawyer in Seocho-dong, and established the law firm, maintaining rapid growth for the past 5 years.
His enthusiasm which made him stand out as a school captain since childhood is the perfect example of someone with a strategic leadership skill who dreams of building a top-tier law firm."I wasn't a charismatic leader, but more like a gentle mentor. I then realized what I really wanted: to become someone who has the ability to listen to others and empathize rather than to draw conclusions. I guess being a mediator was what I was born to be, and therefore becoming a lawyer was something I wanted deep inside." said Mr.Oh, the managing partner at OhKims Law.
The fact that, Mr. Oh, had been born and raised in Seocho-dong, had also played a significant role in his wanting to become a lawyer. All his brothers and his own father graduated from the Law School of Seoul University and become attorneys. He was also able to naturally gain interest in social contribution activities, by attending events held by "Sarang-sam Organization" which was run by his own father, has shaped his future aspirations and helped him decide what kind of lawyer he wanted to be.
As much as his eagerness to study, his active personality has also played a role in deciding his career. "I enjoyed studying. I studied the world and the people in it. During my Ph. D, I went to the army. There I was truly able to ask myself who I wanted to be, what it is that I do well, and again, the answer was - a lawyer."
Life of a lawyer - No such a thing as drama. The reality was fierce and competitive.
OhKims Law began as a small OhKims Law Office. The office which was named after the starting members; Seung-heon Oh, Yong-beom Kim, and Byeong-seok Kim, successfully grew the office into a law firm with 20 professional lawyers and patent attorneys.
Q. What is daily life like for an on-duty lawyer?
A. When I asked what daily life was like as a lawyer, he answered, "During my years in law school, I dreamed of becoming the elegant lawyer from the TV series 'Suites'. It didn't take me long to realize that the reality was totally different. I had to cover dozens of cases in a month and spent more time reviewing and writing documents. I even spent many nights without sleep in consultations about trials. I realized then, that the life as a well-dressed lawyer, roaming around courtrooms with confidence was only a fictional character (laughter)."
---
Being a lawyer, his life only consists of performing duties as a lawyer. He says that he is consistently working on, close to 70-80 cases. He deals with many cases as corporate advisory to general litigation but does his best equally without placing priority over the other task. As a result of this, his hobbies such as swimming and listening to classic music have long been lost.
He wants to be known as that no.1 lawyer who's got all the answers. Although it is important to draw a fair conclusion of his client's dispute, he believes that it is also the job of the lawyer to provide a sense of relief and help heal the wounds of his clients. He says it is rewarding to work for the satisfaction of his clients. Therefore he aims to be a 'passionate problem-solver' who is able to provide various solutions without being confined to just winning the cases.
About OhKims Law - An army of heart-warming lawyers, a law firm that proves competence by skillfulness.
OhKims Law is a firm that competes solely by skills and all-out tailor-made service for clients. The lawyers and patent attorneys consult face-to-face with their clients and carry out even the smallest tasks themselves. This is why they're known as 'a law firm without a law firm manager', As they started with a group of only law school graduate lawyers (without any attorneys who served as a former public officer), all their cases are carried out by their skills and therefore have a high winning rate and meaningful consensus.
The firm conducted a collective damages lawsuit on behalf of patients who received Invossa, the Kolon TissueGene, who developed and sold Invossa, and the minority shareholders of Kolon Life Science in relation to the Invossa incident that concealed the ingredient change. The firm is also well-known for conducting a class lawsuit on behalf of patients who have undergone Allergan's breast implants, the spectators affected by the Ronaldo No Show incident, and for Medytox litigation.
In addition to various class suits that have been a popular issue on the media, the firm is coordinating smooth disputes in a wide range of business sectors, such as corporate legal affairs, criminal lawsuits, inheritance, medical/healthcare, blockchain, fin-tech, sports/entertainment, and etc.
When asked about the growth engines of the law firm in such a short term, he explained, "It is an organization made up of experts with accredited education and experience in various fields. In addition to their legal knowledge, they have their own experiences and know-how in the major fields of business and unite as a team with loyalty. It is a strong law firm that can cater to any case in all directions." He also added, "From the beginning, the partnering colleagues had a tight bonding and showed strong loyalty for one another. They weren't afraid to jump into new businesses in fields such as ICT, fin-tech, and blockchain. And so together with the already existing strengths in the healthcare field, we bonded together with confidence."
He continued and expressed his extraordinary affection for the law firm and said, "The rational judgment and ability to analyze a case is not all of the virtues that a lawyer should possess. I believe that coldness and softness should always co-exist. It is a team of members with whom these beliefs are well communicated with one another"
Path of a lawyer - A public partner with a positive influence.
It is often said that a lawyer is a person who advocates for profit. It is a job that requires you to have innate knowledge and analytical skills as well as the ability to think outside the box, as it is a job seeking the best solutions and suggest alternate options. What are the qualities of a good lawyer? I asked Oh for the answers.
He answered, "First, is the ability to empathize with others. Rather than trying to evaluate them, I believe having empathy and acknowledgment should be prioritized. The second is having that fierce professionalism. It's not enough just to listen and understand the clients' problems. You must be able to think fiercely and come up with the perfect and most practical solution. Third, is having a positive mind that longs to make the world a brighter and happier place to live in. Many lawyers criticize the difficult reality and see a lot of cynical sides to this world. I believe the virtue of a lawyer is having that determination to make the world a better place by constantly reminding themselves about their initial commitment and aspirations as a lawyer."
He added, "The act of sincerely embracing the client's emotions cannot be replaced by a machine. I believe being the mediator who can come up with a tailor-made solution for their client is the competitiveness of a lawyer who is living in the AI era."
"Also, it's a busy world with many things to do, and there are many places seeking the help of a legal representative. Not only should we take lawsuits and legal cases, but if there are places that require the help of a lawyer for any legal guidance, we must be able to actively step up, be open to gain a wider range of experiences, and become the lawyer with a good influence on the society."
Future initiatives - A touching promance, dreaming to build a loved law firm.
Managing partner Seong-heon Oh, acts as the eldest brother at OhKims Law. Most of them live as lawyers who deal with legal matters, but they also have a lot of dilemmas when it comes to managing the business. What are the future initiatives of a man who left Seocho-dong in dreams of building an easily accessible and public-friendly law firm?
When asked about his opinion on the public's perception of legal counseling, he said, "Generally, people find it difficult to come into law firms. A law firm is a space that deals with legal matters. I think anyone should be able to easily come and ask for advice. I've seen many cases where the perfect timing for the best solution is lost because of the delayed counseling. I hope people realize that the job of a lawyer is to contemplate and solve problems together that are difficult to find the solution to alone."
He also said that he wants to be remembered as 'a passionate lawyer who empathizes with many people in the world, who share strong friendship with great colleagues, and as a man who has the courage and passion to try change society and the nation for the better.' He doesn't want to lose his balance between being a cold legal expert and a warm-hearted partner, and this is the essence of his unique leadership style.
When asked about the firm's future direction, he answered, "He dreams of creating the 'loved law firm' not only for his colleagues but for the country by pursuing qualitative growth of the firm rather than the quantitive growth. As a law firm with goodwill and loyalty among partners, and a law firm in which all members can achieve their dreams, the goal is ultimately to become the best law firm in the new era."
Finally, he added, "A rolling stone gathers no moth." Now the attention is paid to the passionate actions of the managing partner, Mr.Oh, who only aims to prove his competency by skills, trust, and his unstoppable passion for his work.
Joon Hyun Lee, hankyung.com, Entertainment & Issue
Reports and Press Releases hub@hankyung.com